IOI NPM Workshop Vienna, Austria 25 – 27 September 2017
As part of its membership to the International Ombudsman Institute, the WCPO was invited for training in Vienna, Austria. Previous workshops of this nature were held in Latvia (2015) and Lithuania (2016).  The Vienna workshop focused on developing skills to optimize interaction and communication with challenging conversation partners, e.g. during visits of places of detention but also in the everyday work with difficult complainants.
With this innovative training seminar, the IOI created an enablishng format allowing participants to learn through a practical approach while at the same time upholding the "do-no-harm" principle, which is so essential when monitoring places of detention.
The IOI invited representatives from the UN Sub-Committee on the Prevention of Torture (SPT) as well as from the Association for the Prevention of Torture (APT) to join this new training format as observers!
The workshop allowed participants to try out and improve their communication skills and techniques in role plays with trained actors, who are familiar with individualized psychiatric clinical patterns of patients and can simulate the patients' characteristics in an interview situation.
Participants were able to observe real-life monitoring visits via a livestream. In so doing the training abided by the "do-no-harm" principle as the clients or patients only had to deal with an already familiar situation and were not disturbed by a larger group of training participants.
For more information about the IOI click here
Pictured Below: Ms Lewis (thirst from left) and Mr Matwa far left, with other delegates.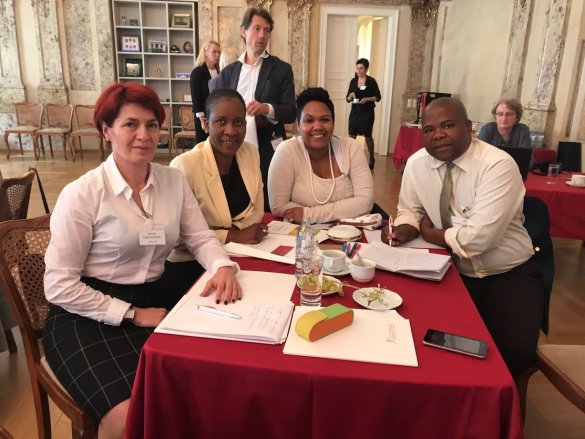 The WCPO wishes to thank the IOI for the opportunities they have afforded us thus far.